Teachers touring with Matthieu Chedid -M-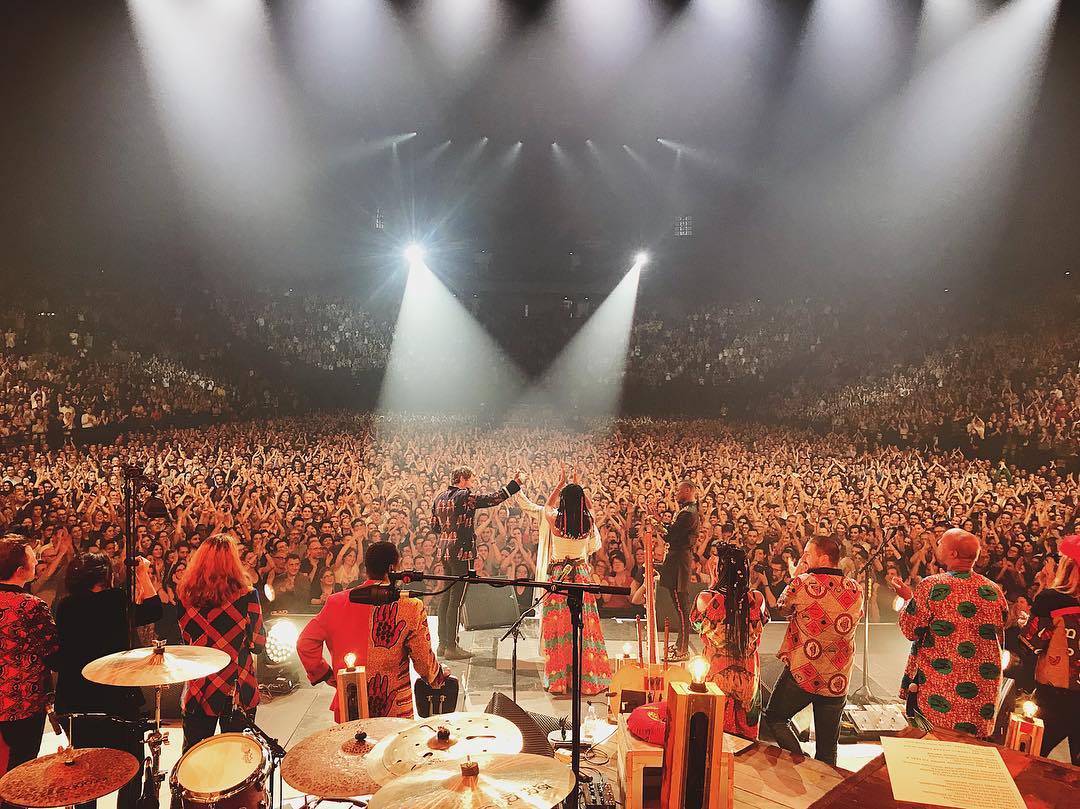 The two teachers of the American School of Modern Music, Brad Thomas Ackley and Guillaume Estace are currently on tour with Lamomali, the Malian project of Matthieu Chedid -M- in most of the french Zeniths and at the Paris Bercy Accord Hotel Arena on december 18 and 19.
Brad on guitar / keyboards and Guillaume Estace in the first act with Lulu Gainsbourg.
LAMOMALI is the result of the complicity between Matthieu Chedid, an accomplished artist rewarded with eight "Victoires de la musique", and the brilliant and respected Toumani Diabaté, a member of a dynasty who made the kora (a harp with 21 strings and a sound box made up of a calabash) one of the most emblematic African instruments. His eldest son Sidiki, rising star of hip hop (at just 25, he fills stadiums in Mali) also took part in the adventure.
Toumani and Sidiki are respectively the 71st and 72nd generation of a line of kora masters dating back to the Mandingo Empire, at a time where West Africa was united. "My mission has always been to introduce Mandinka music to the rest of the world, and to make people understand that music has no borders," says Toumani, who, while developing a style rooted in tradition, is always remained open to collaborations. Over the course of his career, the musician has rubbed shoulders with many musical genres and collaborated with artists such as Björk and Damon Albarn. "I do not play the music of others and they do not play mine," he says. "Whenever we put our music together, we create something new. "
They are sharing the stage with Fatoumata Diawara, a Malian soul diva (revealed to the general public by the film "Timbuktu", which won seven awards at the 2015 Césars, including the best French film and the best music), as well as many guests like Oxmo Puccino and Ibrahim Maalouf.
Lulu Gainsbourg et Guillaume Estace Crédit photo: Rod Maurice