"Off-cycle" music lessons are "à la carte" courses open to musicians of all levels wishing to benefit from the teaching and expertise of the American School of Modern Music with arranged schedules (evening classes 20h -22h and Saturday) in its premises of the XV, IX and XIVth arrondissement of Paris.
The school offers a wide choice of courses (group practice, instrumental lessons, theory classes, ...) in a studious and relaxed setting where the pleasure of play and learning are the priorities.
An assessment at the beginning of the year will enable everyone to find courses adapted to their aspirations and level.
---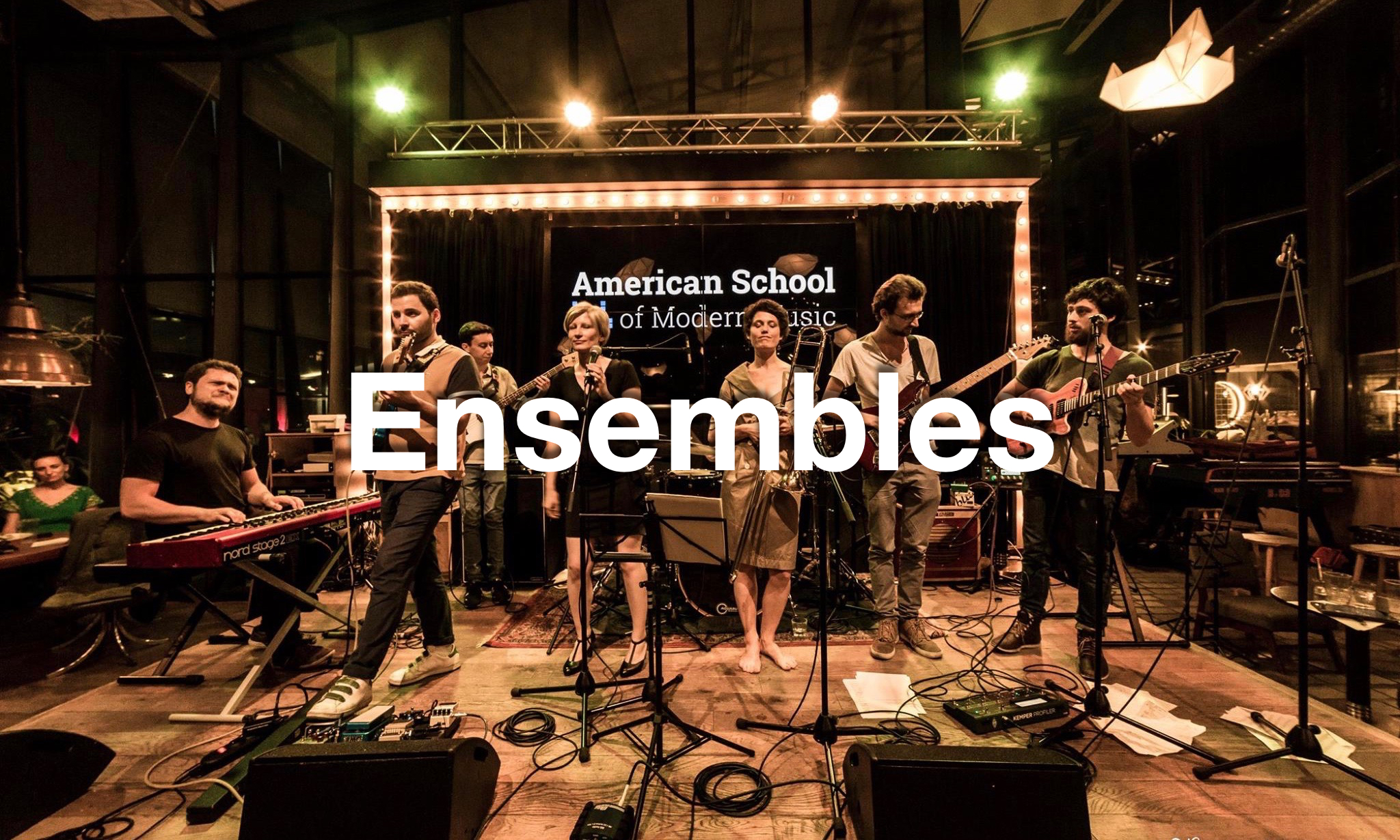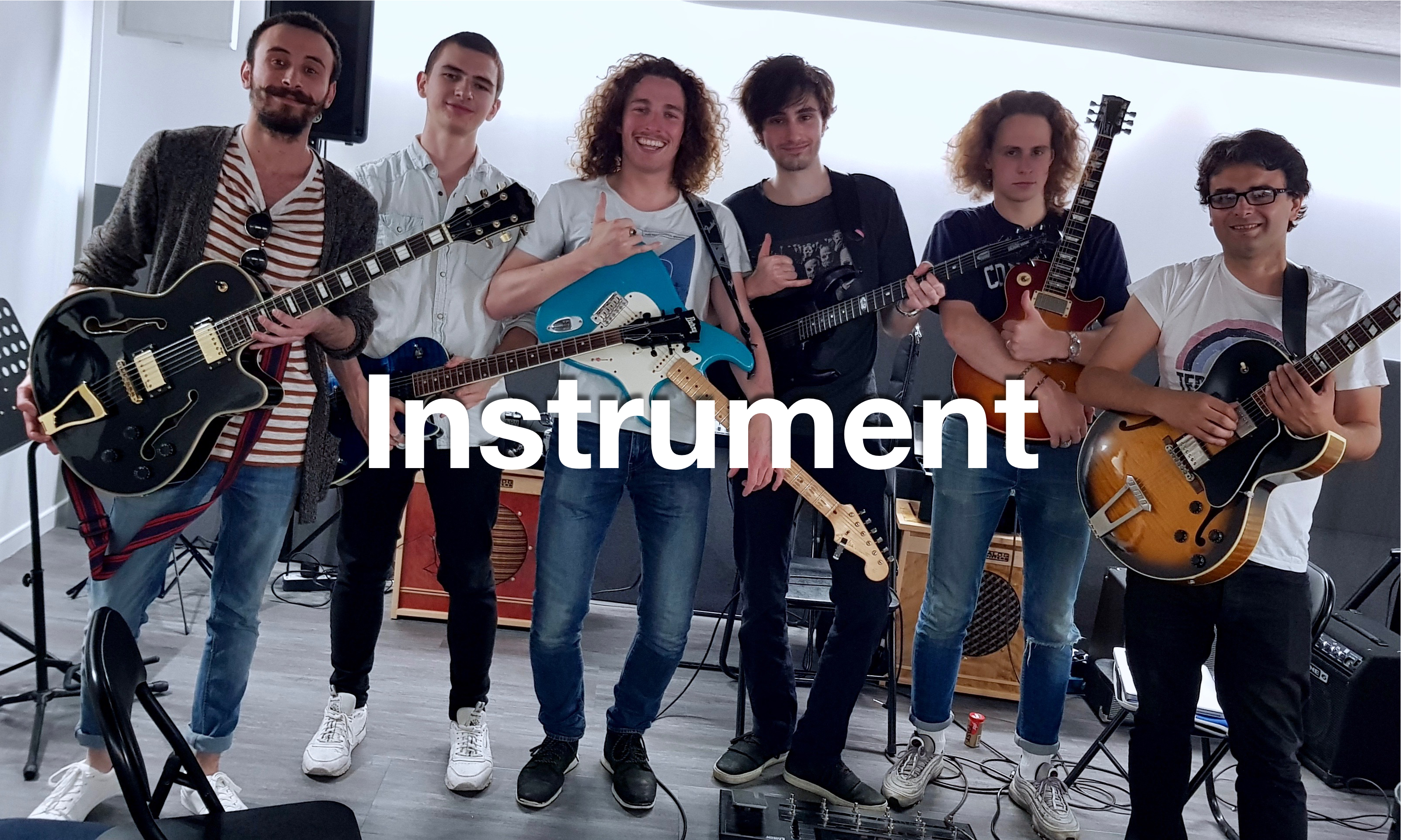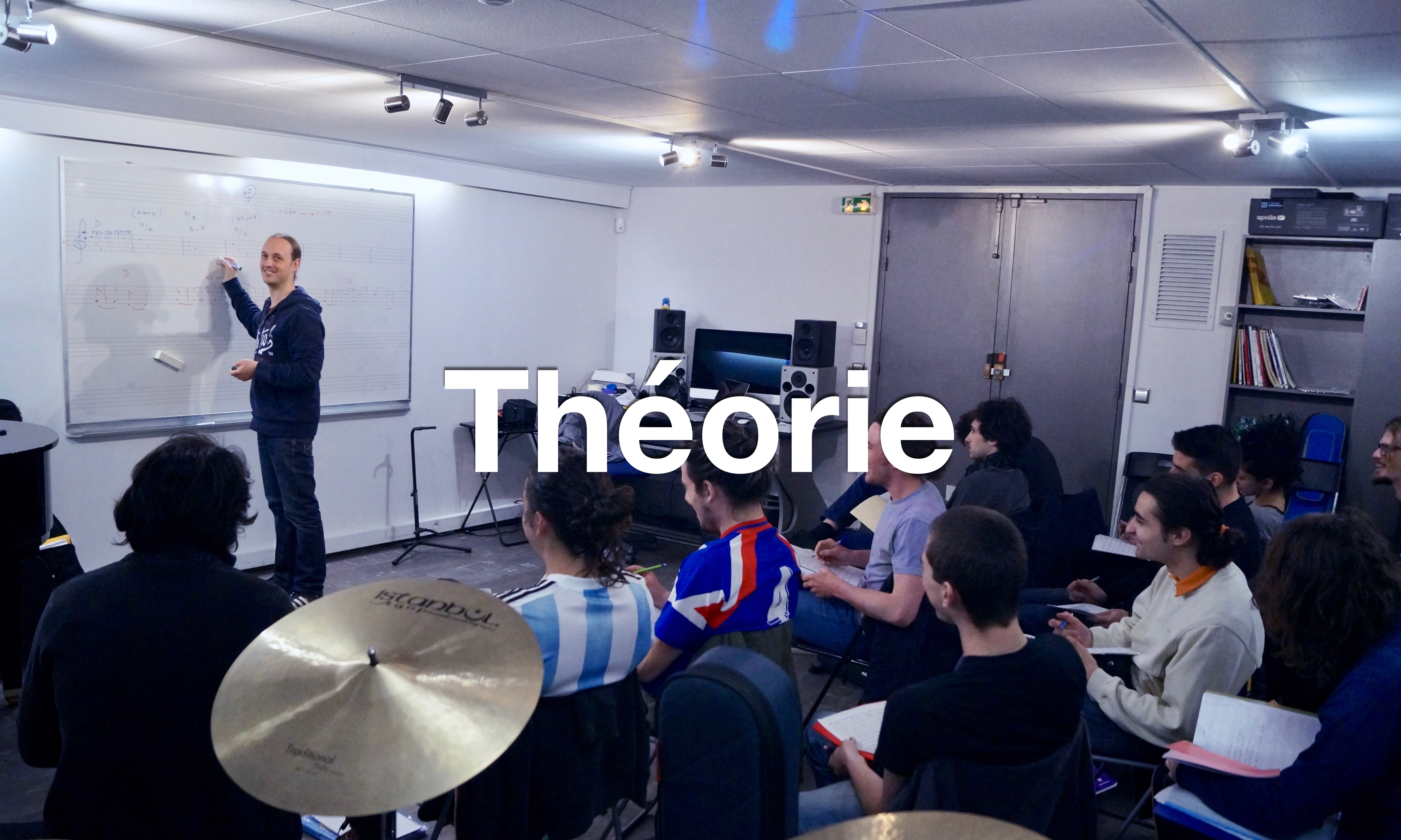 Entrance condition
All musicians, and all instrumental levels are accepted. Tests will be organized at the beginning of the year to establish coherent level classes.
---
Educational team
The American School of Modern Music differs from other French music schools in its desire to offer a teaching team of exceptional musicians, chosen for their links with the United States but especially for their status as professional musicians, renowned and active in the world of music. world of music.
Magic Malik
(Flute / Singer / composer / Arrangement)
Extraordinary flutist, singer, composer, arranger, Magic Malik, who has countless collaborations in a wide variety of backgrounds (Steve Coleman, Saint Germain, Laurent Garnier, FFF, Malka Family, Julien Loureau's Groove Gang), also records and writes with many musicians of the new generation: -M-, Bumcello, Camille, Pierrick Pedron, Aka Moon, Booster, Hocus Pocus, Air, Oumou Sangare, Meshel N'geocelo, Antony Joseph, Catchaito Lopez.
His projects (Magic Malik Orchestra, Tranz Denied, ...), his extraordinary career and his research (especially on "tonal signatures") make him one of the musicians of his generation.
www.magicmalik.com
Cédric Hanriot
(Pianist / Composer / Sound designer / Producer)
The French pianist Cédric Hanriot, recently awarded a Grammy Award with the disc of singer Dianne Reeves "Beautiful Life" (Concord Jazz), has an atypical course. Composer, sound designer, and music producer, he studied at the Berklee College of Music in Boston alongside Danilo Pérez and Joe Lovano.
Cedric had the pleasure of working, recording and playing with, among others:
Dianne Reeves, Herbie Hancock, Dee Dee Bridgewater, John Patitucci, Joe Lovano, Meshell Ndegeocello, Terri Lyne Carrington, Logan Richardson, Nelson Veras, Alex Han, Melissa Aldana, Tineke Postma, Otis Brown III, Lulu Gainsbourg, Donny McCaslin, Clarence Penn , Jason Palmer, Michael Janisch, Jeff Ballard.
Numerous concerts in USA, Canada, China, France, Mexico, Nicaragua, Japan, Indonesia, Singapore, Vietnam, South Korea, Argentina and Uruguay.
Prizes and awards:
-Grammy Award for Dianne Reeves' album "Beautiful Life", Best Vocal Jazz Album of the Year 2015.
American Fulbright
-French-American "French American Jazz Exchange", FAJE supported by the French Export Office and Mid Atlantic Arts Foundation
www.cedrichanriot.com
Nelson Veras
(Guitarist / composer)
Nelson Veras left Brazil at the age of 14 to study in France. Much sought after for his musical culture shaped to Brazilian standards, he was noticed by Frank Cassenti during the filming of Just a Dream where he met Pat Metheny.
In 1996, Nelson participates in the sextet Michel Petrucciani and his young lions with Detlev Beier (b), Flavio Boltro (tp), Olivier Ker Ourio (hca) and Manhu Roche (d). He entered the jazz class of the National Conservatory of Music and Dance in Paris in 1997.
Considered one of the greatest guitarists in the world, he recorded with Aldo Romano with Palle Danielsson and Stefano Di Battista. He also plays with Brad Mehldau, Gary Peacock, Lee Konitz, Daniel Humair, Michel Graillier, Magic Malik, Alexandra Grimal, Jozef Dumoulin, Gildas Bocle, Sylvain Barou and Jacques Pellen (Celtic Tales), Dominique Di Piazza, Jean-Louis Matinier, Steve Coleman, Mark Turner among others.
Jean-Philippe Viret
(Double Bassist / Composer)
Born in Saint-Quentin on September 16, 1959. Begins music at age 18 and studies bass with Jean-Paul Macé then Jacques Cazauran, harmony and counterpoint with Julien Falk. 1981, creation of the double bass orchestra with which he has been playing for more than 30 years. Play with many musicians of his generation (Emmanuel Bex, Simon Goubert, Marc Ducret ....) and with the "old" (René Urtreger, George Arvanitas, Michel Graillier ...) and foreign soloists (Lee Konnitz, Bill Carrothers, Dave Liebmann, Kenny Wheeler, Youn Sun na ...)
Joined from 1989 to 1997 the trio of Stéphane GRAPPELLI.
In 1998, the first TRIO VIRET concert (Edouard Ferlet / piano, Antoine Banville then Fabrice Moreau / drums) with which he recorded 7 albums and gave numerous concerts in France and abroad (New York, Montreal, Japan, China, Korea ...)
Already nominated in 2003, the trio won the Instrumental Training of the Year Award at the Victoires de la Musique 2011.
Release of the trio's 7th album, "the ineffable" in January 2015. Also directs the trio "60% of serious matter" (Eric Seva / bass sax, Michel Godard / Tuba) as well as the string quartet "SUPPLEMENT D'ÂME "" (Sebastien Surel / vl, David Gaillard / al, Eric-Maria Couturier / vlc).
Also plays in many formations including:
The Double Bass Orchestra - African jazz roots quartet - Duet with Atsushi Sakai - Mathias Levy Trio - Emmanuel Borghi Trio - Duet with Rémi Gaudillat - Triumviret - The primitives of the future - Release of the trio's 8th album, "Drunkenness" in September 2019 the release of the trio's 7th album, "the ineffable" in January 2015
https://www.jeanphilippeviret.com/.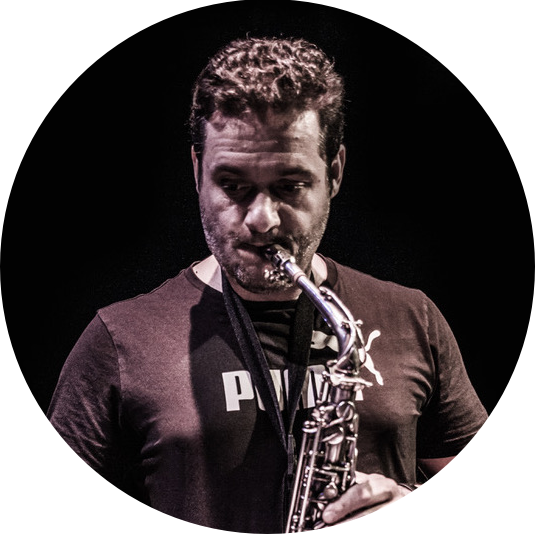 Denis Guivarc'h
(Saxophoniste / composer / Arrangement)
Denis began the music in 1983, returned to the Conservatory of St Brieuc in 1988 and then took classes with Pierrick Pedron. In 1992 he enrolled in Musicology and taught as an assistant at the CIM. After a first record with the Multicolored feeling of Eddie Louis in 1991, he meets Magic Malik with the Human Spirit and follows him in the Magik malik orchestra.
Born a collaboration of 20 years, 7 albums and many international tours on the most prestigious stages: Marciac, North Sea Jazz Festival, Montreal Jazz Festival, Barbican Center London, Knitting factory ..
He leads in parallel his activity of sideman with Paco Sery with whom he turns for 1 year and a half. He also collaborates regularly with musicians such as Steve Coleman, Nelson Veras, Pierre de Bethmann, Bojan Z, Julien Lourau, Baptiste Trotignon, Louis Moutin, Jean Pierre Smadj, Minino Garay, Anga Diaz among others.
www.denisguivarch.com
Benjamin Henocq
(Drummer / composer)
Leader of the group Prysm five albums released on the famous label Blue Note (EMI), from a family of artists, the composer, drummer, singer and author Benjamin Henocq gives his first concert at 12 before performing in many rooms around the world.
Brilliant sideman, he played with artists of all sides: Michel Legrand, John McLaughlin, Didier Lockwood, Lee Konitz, Jean-Michel Pilc, Marc Ducret, Catherine Philip, Louis Winsberg, Martial Solal, Henry Texier, Michel Portal, Michelle & Jon Hendricks, Nelson Veras, Graig Bailey, Joe Locke. He has toured with James Taylor, Kenny Garrett, Stefano Di Battista, Michel Legrand, Wdr and Lincoln center orchestra Big Band, Ravi Coltrane, Mark Turner, Rosario Giuliani, Bob Mintzer among others.
www.benjaminhenocq.fr
Cédric Ricard
(Saxophonist / Composer)
Holder of the Territorial Assistant Specialized Jazz Teaching Contest and a JAZZ Music Studies Diploma from the National School of Music of Villeurbanne, Cédric RICARD is a "cross over" musician, who multiplies experiences by collaborating with artists as diverse as varied, such as DeLaSoul, the National Orchestra of BARBES or Melody Gardot.
In parallel, Cédric teaches and directs workshops at the School of Music of Paray Vieille Poste and at the Faculty of Marnes La Vallée, as in charge of Directed Training in Music Training applied to Popular Music and Magistral Courses and Theory of Music. Music.
Cédric develops his pedagogy, on the one hand, around a repertoire drawing on Anglo-Saxon and French musical heritage between the years 1965 and 1975, and on the other hand, more modern artists like Bashung, Depeche Mode or SoundGarden for to mention only them, complete this database, essential and necessary for all musicians wanting to cultivate and nourish its general culture concerning popular music.
Caroline Faber
(Singer / Author / Composer)
Caroline Faber "goes into music" in 2000, carried away by a vocation that makes her give up her professional life before. Four years later, she won the competition of the vocal jazz festival of Crest, unanimously of the jury, within her trio BA-YA; while touring the world as a singer of the Cameroonian Sally Nyolo, whose stage energy will mark her. The pianist composer and arranger Martinique Hervé Celcal, whom she meets then, will become his musical accomplice.
An excellent improviser, author, composer and sensitive interpreter, nourished by many influences and collaborations (Nico Morelli, Alain Jean-Marie, Laurent de Oliveira, Richard Bonnet, Dede St Price ...), Caroline pursues an independent journey on stage - where she s 'imposes with contagious energy - as in the studio. Her 4th and last album "This feeling of Blue" was released under the label Futura Marge in January 2017.
Holder of the vocal jazz DE, Caroline Faber has been teaching for over 15 years vocal jazz, R'n'B, funk and Brazilian music. She animates original courses, in which she gives much importance to the rhythmic singer, through an eclectic repertoire.
Alexey Asantcheeff
(Pianist / Arranger / Composer / Lyricist)

Pianist, arranger, composer and lyricist, this Franco-British of Russian origin draws his inspiration as much from the classical music of his childhood as from the jazz that saw him grow up. With his ears and his heart wide open to all the contemporary music that surrounds him, he multiplies the collaborations with the young creators of the moment: the Parisian revelation Lou Tavano, the Brazilian Diogo Strausz (Voyou), the Reunionese Bastien Picot (Aurus), the Marquisian director Ory Meuel ...
The grandson of Scottish composer and conductor Jack Lockhart, Alexey Asantcheeff began studying classical piano at the age of six under the auspices of Italian pianist Carla Segalini. He completed his jazz training at the American School of Modern Music in Paris (a subsidiary of the Berklee School of Music in Boston), before attending the teaching of Pierre Bertrand (Paris Jazz Big Band, Nice Jazz Orchestra ...) with who he explores orchestration for Big Band. His arrangements attract the attention of Stan Laferrière (Grand Jazz Orchestra of the Air Force). In parallel, he follows David Lampel's classical orchestration lessons, and explores modal harmonic language with the Hungarian professor Emil Spanyi.
In collaboration with Lou Tavano, he co-signed all the compositions of the album For you published in March 2016 on the German label ACT, and received the recognition of the French and European press for the debut album of the young singer.
Guillaume Estace
(Guitarist/Compositer)
Graduate of Berklee College of Music "summa cum laude" (highest distinction) in 2009 and the American School of Modern music. Berklee College of Music World Scholarship Tour Scholarship and "Pierre Aguiton" Scholarship of the General Council of the Channel.
Numerous concerts in Europe, USA, Canada, Japan, Ukraine, UK, guitarist on the tour "from Gainsbourg to lulu" (2011-2013) with Vanessa Paradis, Matthew Chedid, Ayo, Jane Birkin, Angelo Debarre, Stan Harrison, Gary Georgett among others. Guitarist for the Caroline Bugala Quartet (violinist for Didier Lockwood, Romane, Stochelo Rosenberg ...) (2013-2014). Played in Lulu Gainsbourg's group (2015-2018), notably at the Royal Albert Hall in London with Ara Starck, and in the first part of Matthieu Chedid -M's "Lamomali" tour in 2018 (Zeniths, Paris Accor Hotel Arena, ...).
Studies with the most prominent guitarists in the United States (Mick Goodrick, Tim Miller, David Gilmore, ...).
Founder of Guitar-Sessions with Edouard Brenneisen and co-director of the American School of Modern Music.
www.guillaumeestace.com
Jonathan Joubert
(Guitarist/Composer)
Trained at the American School and the prestigious Berklee College of Music, Jonathan Joubert continues his career as a guitarist, composer and arranger between Paris and the United States.
His studies with Mick Goodrick (who trained among others Pat Metheny, Lionel Loueke, ...), Richie Hart (student and friend of George Benson), David Gilmore (Steve Coleman, Christian McBride, ...), Bret Wilmott (taught by Kurt Rosenwinkel) allowed him to develop and deepen an original and effective method out of the traditional approach of learning jazz.
He had the chance to share various scenes, from Paris to NYC alongside Mark Turner, Baptiste Trotignon, Benjamin Henocq, Tchavolo Schmitt, Boulou Ferré, Stephen Wrembel, Denis Chang, Ben Powell, Florin Niculescu, Pierre Manetti, Cédric Hanriot between other.
He also co-director of the American School of Modern Music with Guillaume Estace.
www.jonathanjoubert.com
Charles Turner
(Singer/Composer)
Despite his young age, Charles Turner has already performed at venues such as Smoke Jazz and Super Club, Birdland, Ginny's Supper Club, Smalls, Mintons and Gin Fizz in Harlem.
He won the Best Jazz Singer Award at the Monterey Jazz Festival and the 1st Annual "Duke Ellington" Competition in New York, organized by Mercedes Ellington.
Her debut album "Dreamers" Produced by Grammy Award-winning drummer Ulysses Owens was released in March 2014.
Charles graduated from Berklee College of Music in Boston, MA and earned a full scholarship (Full Scholarship). During his studies, Charles had the privilege to study and play with Terri Lyne Carrington, Dave Samuels, Dee Dee Bridgewater and Joanne Brackeen.
Charles played with Jason Moran, Craig Handy, Marc Cary, Bobby Mcferrin and Cedric Hanriot among others.
http://charlesturnermusic.com/

Tony Saba
(drummer)
Tony SABA Drummer Private lessons with Daniel Pichon, Laurent Rosemain, Steve Carbonara, Norbert Pfammatter, Christopher Marguet, Clarence Penn ... Studies at the American School of Modern Music. Internships: International Association of Schools of Jazz (IASJ 1992), Jazz Masters in Monaco (1992). Concerts: Bernard Vidal, Peter Giron, Phil Hilfiker, Alexander Astier, Michael Cheret, Stephane Guillaume, Jeremy Hababou, Rick Margitza, Lionel Loueke ... Tours, concerts and recordings in jazz and variety. Teacher: 1992-2001 France Percussion, 1999-2011 American School of Modern Music, 2011 IMEP • Paris College of Music, 2019 Amercian School of Modern Music. Internships: Bernard Vidal Workshop, Berklee International Network (BIN) at Berklee College of Music (2004).