The American School of Modern Music distinguishes itself by its commitment to offer a faculty of outstanding musicians chosen not only for their links with the United States but also for their standing as professional musicians, renowned and active in the international music industry.
Cédric Hanriot
(Pianist/Composer/Sound Designer/Producer)
The French pianist Cédric Henriot, recently awarded a Grammy Award for singer Dianne Reeves's '"Beautiful Life" recording (Concord Jazz), has an unusual background. Composer, sound designer and music producer, he studied at Berklee College of Music in Boston alongside Danilo Pérez and Joe Lovano.
Cédric has had the pleasure to work, record and play with :
Dianne Reeves, Herbie Hancock, Dee Dee Bridgewater, John Patitucci, Joe Lovano, Meshell Ndegeocello, Terri Lyne Carrington, Logan Richardson, Nelson Veras, Alex Han, Melissa Aldana, Tineke Postma, Otis Brown III, Lulu Gainsbourg, Donny McCaslin, Clarence Penn, Jason Palmer, Michael Janisch, Jeff Ballard.
Several concert appearances in the USA, Canada, China, France, Mexico, Nicaragua, Japan, Indonesia, Singapour, Vietnam, South Korea, Argentina and Uruguay.
Prizes and awards:
- Grammy Award for Dianne Reeves's recording of "Beautiful Life", Best Album for Vocal Jazz 2015.
- Fulbright Scholarship
- Franco-American Scholarship "French American Jazz Exchange", FAJE is sponsored by the French Bureau of Exports and the Mid Atlantic Arts Foundation.
Brad Thomas Ackley
(Producer/Composer/Multi-instrumentalist)
A graduate of Berklee College of Music in "Music Production and Engineering," Brad Thomas Ackley has an unusual and eclectic career. He is known in France for his work on the fifth studio album ("IL") by Matthieu Chedid (-M-) having produced, recorded and mixed it as well as his participation in the world tour that followed (Victory Music Award for the best musical / tour / concert 2014).
Ingénieur du son sur le film « Matrix Reloaded », Brad est également compositeur pour le cinéma, la télévision et la publicité: « Jamais le premier soir », « Un moment d'égarement », « HBO-God Save our Shoes », « MTV-The HIlls », Renault, Lacoste, Collette, Adidas, IKEA…
Sound engineer on the film "The Matrix Reloaded" Brad is also a composer for film, television and advertising, "Never on the First Night," "A Moment of Madness", "HBO-God Save Our Shoes," "MTV-The HIll " Renault, Lacoste, Collette, Adidas, IKEA ...
Logan Richardson
(Saxophonist/Composer)
Considered one of the best saxophonists of his generation, Logan is also distinguished by his talent as a composer.
His latest album "Shift" (2016) released on the famous Blue Note label shines notably by the presence of Pat Metheny on all the tracks of the album (Pat has not appeared as sideman since "Pilgrimage" with Michael Brecker ).
After studying and obtaining a Full Scholarship at the New York's New School, Logan quickly began to play, record and tour with major artists such as Nasheet Waits, Stefan Harris, Greg Tardy, Joe Chambers, Billy Hart, Jason Moran, Butch Morris, NEXT Collective, Michelle Rosewoman, Gerald Clayton, World Saxophone Quartet in parallel to his activities as a leader.
http://loganrichardson.global/
Benjamin Henocq
(Drummer/Composer)
Leader of the group Prysm with five albums released on the famous Blue Note (EMI) label, born into a family of artists, Benjamin is a composer, drummer, singer, author and professional dancer. At 12, he gave his first concert and has appeared in many theaters around the world.
A brillant sideman, he has played with artists of all stripes and styles - jazz, funk, rock, hip hop, including among others:
Michel Legrand, John McLaughlin, Didier Lockwood, Lee Konitz, Jean-Michel Pilc, Marc Ducret, Philip Catherine, Louis Winsberg, Martial Solal, Henri Texier, Michel Portal, Michelle & Jon Hendricks, Nelson Veras, Graig Bailey, Joe Locke. Il a notamment tourné avec James Taylor, Kenny Garrett, Stefano Di Battista, Michel Legrand, Wdr et Lincoln center orchestra Big band, Ravi Coltrane, Mark Turner, Rosario Giuliani, Bob Mintzer...
Magic Malik
(flutist/Singer/Composer/Arranger)
Extraordinary flutist, singer, composer, arranger, Magic Malik has countless collaborations under his belt from many different backgrounds (Steve Coleman, St. Germain, Laurent Garnier, FFF, Malka Family, the Groove Gang by Julien Loureau), and has recorded with and written for many musicians of a younger generation: -M-, Bumcello, Camille, Pierrick Pedron, Aka Moon, Booster, Hocus Pocus, Air, Oumou Sangaré, Meshel N'geocelo Antony Joseph, Catchaito Lopez.
His projects (Magic Malik Orchestra, Tranz Denied ...), his exceptional career and his research (especially on "tonal signatures") make him one of the key musicians of his generation.
Nelson Veras
(Guitarist/Composer)
At the age of 14 he left Brazil to study in France . Sought after because of his musical culture shaped by Brazilian standards, he is noticed by Frank Cassenti while shooting the film Just a Dream where he meets Pat Metheny.
In 1996, Nelson Veras played with the Michel Petrucciani Sextet and His Young Lions with Detlev Beier (b), Flavio Boltro (tp), Olivier Ker Ourio (hca) and Manhu Roche (d). He entered the jazz class at the Paris Conservatory in 1997.
Considered one of the greatest guitarists in the world, he recorded with Aldo Romano, Palle Danielsson and Stefano Di Battista. He also plays with Brad Mehldau, Gary Peacock, Lee Konitz, Daniel Humair, Michel Graillier, Magic Malik, Alexandra Grimal, Jozef Dumoulin, Gildas Boclé, Sylvain Barou and Jacques Pellen (Celtic Tales), Dominique Di Piazza, Jean-Louis Matinier, Steve Coleman, Mark Turner between others.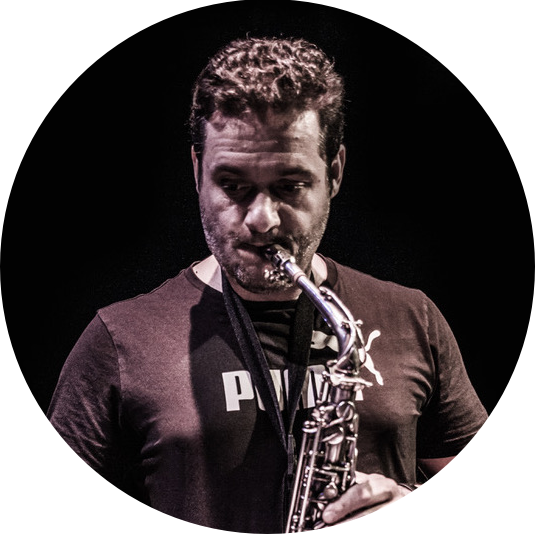 Denis Guivarc'h
(Saxophonist/Composer/Arranger)
Denis started the music in 1983, enter to the Conservatory of St Brieuc in 1988 and then took classes with Pierrick Pedron. In 1992 he enrolled in Musicology and taught as an assistant at the CIM.
After a first record with the Multicolore feeling of Eddie Louis in 1991, he meets Magic Malik with the Human Spirit and follows him in the Magik malik orchestra. A collaboration of 20 years follows, 7 albums and many international tours on the most prestigious stages: Marciac, North Sea Jazz Festival, Montreal Jazz Festival, Barbican Center London, Knitting factory ..
In parallel, he leads his sideman life with Paco Sery, with whom he has been shooting for 1.5 years.
He also regularly collaborates with musicians such as Steve Coleman, Nelson Veras, Pierre de Bethmann, Bojan Z, Julien Lourau, Baptiste Trotignon, Louis Moutin, Jean Pierre Smadj, Minino Garay and Anga Diaz.
Guillaume Estace
(Guitarist/Composer)
A graduate of Berklee College of Music with the highest distinction (Summa Cum Laude) in 2009 and at the American School of Modern Music. Recipient of the Berklee World Scholarship Tour and the Pierre Aguiton Fellowship (Conseil Général de la Manche).
Numerous concerts in Europe, USA, Canada, Japan, Ukraine, UK, guitarist on the tour "From Gainsbourg to Lulu" (2011-2013) with Vanessa Paradis, Matthieu Chedid, Ayo Jane Birkin, Angelo Debarre Stan Harrison, Gary Georgett among others. Guitarist for Caroline Bugala Quartet (violinist Didier Lockwood, Romane, Stochelo Rosenberg ...) (2013-2014). Member of the Lucien Gainsbourg Group (2015-2016) including appearances at the Royal Albert Hall London and Montreux Jazz Festival with Ara Starck, Brad Thomas Ackley and Lawrence Clais.
Studies with the most eminent American guitarists (Mick Goodrick, Tim Miller, David Gilmore, ...).
Founder of the Guitar-Sessions with Edouard Brenneisen and Co-Director of the American School of Modern Music.
Jonathan Joubert
(Guitarist/Composer)
Trained at the American School of Modern Music and at the prestigious Berklee College of Music, Jonathan Joubert continued his career as a guitarist, composer and arranger straddling his native Paris and the United States.
Having studied with Mick Goodrick (who taught Pat Metheny, Lionel Loueke, ...), Richie Hart (student and friend of George Benson), David Gilmore (Steve Coleman, Christian McBride, ...), Bret Wilmott (teacher of Kurt Rosenwinkel) their influence allowed Jonathan to develop and deepen an original and effective method outside of the mainstream approach to teaching jazz.
He had the opportunity to share the stage from Paris to New York with the likes of Mark Turner, Trotignon, Benjamin Henocq, Tchavolo Schmitt, Boulou Ferre, Stephane Wrembel, Denis Chang, Ben Powell, Florin Niculescu, Pierre Manetti, Cedric Hanriot among others.
He is also Co-Director of the American School of Modern Music with Guillaume Estace.
James Robbins
(Bassist/Double Bassist)
Bassist, Doublebassist and New Yorker, James Robbins studied with Marcus Mclaurine (bassist with Clark Terry) and Joris Teepe (bassist with Benny Golson) among others at the Berklee College of Music.
Only 26, he has played all over the US and Europe with various groups alongside Nikolas Anadolis, Stephane Wrembel, Joseph Doubleday, Jonathan Joubert, Michel Camilo, Javier Rosario, Les Paul and with the Thank You Scientist Group. He has played with many jazz musicians on the New York club scene, the likes of the Blue Note and Smalls where he performs regularly as well as in almost all of the US House of Blues.
In 2008 he was awarded the Groningen Award from NJPAC, Roy Meyer Swingers Award and the Berklee Writing and Composition Scholarship. Mr. Robbins has taught bass, guitar and voice at Montclair State University's Stokes Forest Music Camp, Vermont Jazz Center, in the William Paterson Summer Jazz Program. He is also Professor at Guitar-Sessions since 2014.
Michele Hendricks
(Singer/Songwriter/Composer)
Michele Hendricks, American singer, songwriter, went on stage at the age of eight with her father Jon Hendricks, himself a singer, songwriter and founder of the famous vocal trio Lambert, Hendricks & Ross. After having studied dance and theater in London, she pursued her musical studies in San Francisco before returning to New York, her birthplace, for two years, during which she worked with Buddy Rich and Stan Getz.
Michele then returned to San Francisco to sing in the show Jon HENDRICKS "Evolution of the Blues", which played for six years. Afterwards she formed her own group, with which she worked in the San Francisco area. 
She rejoined her father when he formed his new group "Jon Hendricks & Co". They recorded the album "Love", nominated for the Grammy Awards, and for which Michele did the arrangements. 
Michele eventually left the band to start a solo career, and currently sings in the USA, Europe and Japan.
Her CD in tribute to Ella Fitgerald, "A Little Bit Of Ella (Now & Then)", recorded with the Tommy Flanagan Trio and released in early 2016 received a good critical and public reception. 
Le Figaro: "one of the great singers, those who have vocal quality and musical mastery added to extraordinary stage presence".
Télérama: "Michele HENDRICKS up their with the best, has managed to create her own forms, as sophisticated as those of Sarah, with experience that has nothing to envy Ella, and at the heart roots that can be traced back Bessie". 
Jazzman: "Scat, she is now the universal champion …"
Florin Niculescu
(Violonist/Composer)
Florin Niculescu arrived in France in the early 90s to achieve one of his dreams, to meet Stéphane Grappelli. He then met and collaborated with many French jazz performing artists (Emmanuel Bex, Simon Goubert, Christian Escoudé, Romane, Angelo Debarre). Florin plays in the new Quintette du Hot Club of France with Babik Reinhardt, and is part of the great adventure "The Gyspy Project" alongside Bireli Lagrene.
He is also very much in demand by popular stars such as Charles Aznavour, Roberto Alagna, Henri Salvador, Françoise Hardy, Patrick Bruel, Julien Clerc, Romain Didier, Dany Brillant, Sanseverino.
Florin Niculescu is one of the few Europeans to have played at Carnegie Hall where he was invited in 2007 for a tribute to the great pianist Oscar Peterson (who called Florin "Hurricane Carpathian" after hearing him play!). He shares the stage with icons of world jazz: Hank Jones, Billy Taylor, Wynton Marsalis, Russell Malone, Christian McBride, Paquito D'Rivera, Mulgrew Miller, Lewis Nash, Houston Person, Clark Terry, Jimmy Heath, etc.