The American School of Modern Music distinguishes itself by its commitment to offer a faculty of outstanding musicians chosen not only for their links with the United States but also for their standing as professional musicians, renowned and active in the international music industry.
Cédric Hanriot
(Pianist/Composer/Sound Designer/Producer)
The French pianist Cédric Henriot, recently awarded a Grammy Award for singer Dianne Reeves's '"Beautiful Life" recording (Concord Jazz), has an unusual background. Composer, sound designer and music producer, he studied at Berklee College of Music in Boston alongside Danilo Pérez and Joe Lovano.
Cédric has had the pleasure to work, record and play with :
Dianne Reeves, Herbie Hancock, Dee Dee Bridgewater, John Patitucci, Joe Lovano, Meshell Ndegeocello, Terri Lyne Carrington, Logan Richardson, Nelson Veras, Alex Han, Melissa Aldana, Tineke Postma, Otis Brown III, Lulu Gainsbourg, Donny McCaslin, Clarence Penn, Jason Palmer, Michael Janisch, Jeff Ballard.
Several concert appearances in the USA, Canada, China, France, Mexico, Nicaragua, Japan, Indonesia, Singapour, Vietnam, South Korea, Argentina and Uruguay.
Prizes and awards:
- Grammy Award for Dianne Reeves's recording of "Beautiful Life", Best Album for Vocal Jazz 2015.
- Fulbright Scholarship
- Franco-American Scholarship "French American Jazz Exchange", FAJE is sponsored by the French Bureau of Exports and the Mid Atlantic Arts Foundation.
Lou Tavano
(Singer/Songwriter)
*** Nominated for the Victoires du Jazz 2020 (French Grammy Awards) in the "Vocal Artist" category ***
Lou Tavano began playing the piano at five, singing at ten and acting at fifteen.
At twenty she meets her alter ego Alexey Asantcheeff, at twenty-five publishes her first EP, at thirty her first album.
In November 2012, she released her first cover EP Meets Alexey Asantcheeff (self-produced) with which she toured in France and Germany in 2013 and 2014. She thus attracted the attention of many professionals, including Siggi Loch, founder of prestigious German label ACT, which signs it on the spot.
Now ACT recording artist, Lou Tavano publishes his first album For You (ACT / PIAS) on March 4, 2016, widely hailed by French and European critics.
An active member of this young French generation who comes to renew jazz, she draws from a melting pot of current influences the raw material for her second opus "Uncertain Weather" (L'UN L'UNE / L'Autre Distribution).
Nicolas Godefroy
(Orchestrator/Composer)
Nicolas J.C. Godefroy first studied classical music and composition at the Regional Conservatory of Caen in France, and then graduated "Summa Cum Laude" from Berklee College of Music (Boston, United States) with a specialization in music composition for visual media, orchestration, and orchestral conducting.
In Los Angeles, he worked on both small and large studio productions, including projects such as The Tale of Desperaux (Universal Studios), The Cold Light of Day (Summit Entertainment featuring Bruce Willis, Sigourney Weaver, Henry Cavill), The Raven (starring John Cusack), Vanishing on 7th Street (with Hayden Christensen), as well as television series like Battlestar Galactica, Eureka, Human Target, Caprica, Trauma...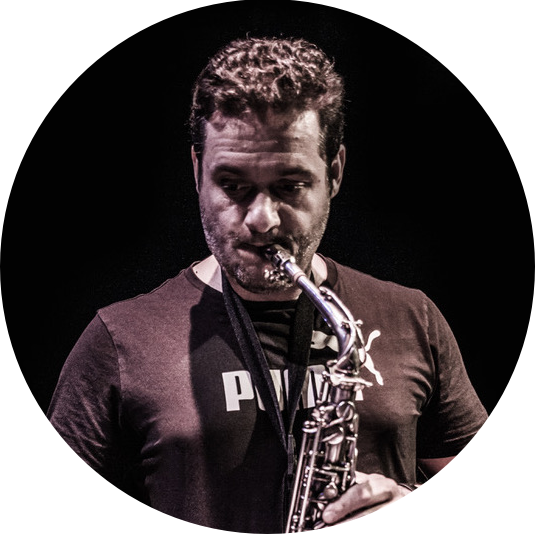 Denis Guivarc'h
(Saxophonist/Composer/Arranger)
Denis started the music in 1983, enter to the Conservatory of St Brieuc in 1988 and then took classes with Pierrick Pedron. In 1992 he enrolled in Musicology and taught as an assistant at the CIM.
After a first record with the Multicolore feeling of Eddie Louis in 1991, he meets Magic Malik with the Human Spirit and follows him in the Magik malik orchestra. A collaboration of 20 years follows, 7 albums and many international tours on the most prestigious stages: Marciac, North Sea Jazz Festival, Montreal Jazz Festival, Barbican Center London, Knitting factory ..
In parallel, he leads his sideman life with Paco Sery, with whom he has been shooting for 1.5 years.
He also regularly collaborates with musicians such as Steve Coleman, Nelson Veras, Pierre de Bethmann, Bojan Z, Julien Lourau, Baptiste Trotignon, Louis Moutin, Jean Pierre Smadj, Minino Garay and Anga Diaz.
Raphaël Pannier
(Drummer/Composer)
A graduate of Berklee College of Music and Manhattan School of Music, Raphaël has already recorded more than twenty albums as a sideman and has performed with artists such as Lee Ritenour, Steve Wilson, Bob James, Marcos Valle, Eric Lewis, Manuel Valera, Rotem Sivan, Lage Lund among others.
At just 30 years old, he released his first album "Faune" on September 18, 2020 as a leader with the jazz giants Miguel Zenón (alto saxophone), Aaron Goldberg (piano) and François Moutin (double bass). Produced by the French Paradox label, "Faune" has already been voted "revelation" by Jazz magazine.
Magic Malik
(flutist/Singer/Composer/Arranger)
Extraordinary flutist, singer, composer, arranger, Magic Malik has countless collaborations under his belt from many different backgrounds (Steve Coleman, St. Germain, Laurent Garnier, FFF, Malka Family, the Groove Gang by Julien Loureau), and has recorded with and written for many musicians of a younger generation: -M-, Bumcello, Camille, Pierrick Pedron, Aka Moon, Booster, Hocus Pocus, Air, Oumou Sangaré, Meshel N'geocelo Antony Joseph, Catchaito Lopez.
His projects (Magic Malik Orchestra, Tranz Denied ...), his exceptional career and his research (especially on "tonal signatures") make him one of the key musicians of his generation.
Guillaume Estace
(Guitarist/Composer)
A graduate of Berklee College of Music with the highest distinction (Summa Cum Laude) in 2009 and at the American School of Modern Music. Recipient of the Berklee World Scholarship Tour and the Pierre Aguiton Fellowship (Conseil Général de la Manche).
Numerous concerts in Europe, USA, Canada, Japan, Ukraine, UK, guitarist on the tour "From Gainsbourg to Lulu" (2011-2013) with Vanessa Paradis, Matthieu Chedid, Ayo Jane Birkin, Angelo Debarre Stan Harrison, Gary Georgett among others. Guitarist for Caroline Bugala Quartet (violinist Didier Lockwood, Romane, Stochelo Rosenberg ...) (2013-2014). Member of the Lucien Gainsbourg Group (2015-2016) including appearances at the Royal Albert Hall London and Montreux Jazz Festival with Ara Starck, Brad Thomas Ackley and Lawrence Clais.
Studies with the most eminent American guitarists (Mick Goodrick, Tim Miller, David Gilmore, ...).
Founder of the Guitar-Sessions with Edouard Brenneisen and Co-Director of the American School of Modern Music.
Anthony Jambon
(Guitarist/Composer)
Born in 1990, Anthony began learning the guitar at the age of 7. He first approaches classical music, then turns to jazz and improvised music as a teenager.
Anthony first studied at the CRD in Bourg-en-Bresse. After obtaining his guitar DEM in 2008, he entered the CNR in Lyon.
Anthony joined the CMDL in 2009, he graduated with honors the following year, after learning from guitarists such as Pierre Perchaud, Manu Codjia, Olivier Louvel, Louis Winsberg, Manu Galvin, Fred Loiseau, or even Mathias Berchavsky.
He is now part of many groups and collaborates with many artists: Sly Johnson; Awake; ETIENNE MBAPPE and the Prophets; Lisa Simone; Mayra Andrade; Nowhere; At Home Duo; Natasha Rogers, Cynthia Abraham, ...
In contact with such different groups of varied styles, Anthony has become a versatile guitarist, enriched with different cultures.
Leïla Olivesi
(Composer/Arranger)
Leïla Olivesi is a French pianist and composer, winner of the Django Reinhardt Prize by the Académie du Jazz 2022 : Best French Musician of the year. She's MA graduate in musicology and philosophy. In 2013, she received the Ellington Composers first prize, an international big band composing competition. In 2015, she was commissioned and composed the Suite Andamane for symphonic orchestra, jazz big band and choir. Her latest opus in 2022 ASTRAL, won a CHOC Jazzmag and INDISPENSABLE JazzNews. The previous opus in 2019, Suite Andamane,  received a « coup de cœur » from the Academy Charles Cros. She performed in many festivals as Jazz in Marciac, Jazz à Vienne, Ankara Jazz Festival, Festival Radio-France à Montpellier, Nouakchott jazz Festival, le Midem, Albertville Jazz Festival, Orléans Jazz Festival. She's also a PhD student under the supervision of Laurent Cugny at the Sorbonne Universty, Iremus.
She gives lectures on Duke Ellington's music and is curently vice-president of the Maison du Duke in Paris.
She performed in many festivals as Jazz in Marciac, Jazz à Vienne, Ankara Jazz Festival, Festival Radio-France à Montpellier, Nouakchott jazz Festival, le Midem, Albertville Jazz Festival, Orléans Jazz Festival.
Alba Obert
(Violinist/Composer)
A graduate of the Strasbourg Conservatory and then of the CMDL, Alba Obert performs in various formations ranging from jazz to classical music and contemporary music. She collaborates with various ensembles that she directs or co-directs as an author/composer but also an arranger. In particular, she has just released under her name her first album "Kaleidoscope" hailed by Jazz Magazine as a "revelation of the month" (November 2022).
Passionate about composition and arrangement, she co-directs with the pianist Nina Gat the ensemble "hors-limite" which mixes jazz and classical music in concerts where original compositions and standards.
Alexey Asantcheeff
(Pianist/Composer/Arranger/Lyricist)
Pianist, arranger, composer and lyricist, this Franco-British of Russian origin draws his inspiration as much from the classical music of his childhood as from the jazz that saw him grow up. With his ears and heart wide open to all the current music that surrounds him, he multiplies his collaborations with the young creators of the moment: the Parisian revelation Lou Tavano, the Brazilian Diogo Strausz (Voyou), the Reunionese Bastien Picot (Aurus), Marquesan director Ory Meuel, …
Grandson of Scottish composer and conductor Jack Lockhart, Alexey Asantcheeff began studying classical piano at the age of 6, under the aegis of Italian pianist Carla Segalini. He completed his jazz training at the American School of Modern Music in Paris before following the teaching of Pierre Bertrand (Paris Jazz Big Band, Nice Jazz Orchestra, etc.) with who he explores orchestration for Big Band.
His arrangements notably caught the attention of Stan Laferrière (Grand Orchester de Jazz de l'Armée de l'Air). At the same time, he followed the classical orchestration lessons of David Lampel, and explored the modal harmonic language with the Hungarian professor Emil Spanyi.
He notably co-signs, in collaboration with Lou Tavano, all the compositions of the disc For you released in March 2016 on the German label ACT, and receives recognition from the French and European press for the first album of the young singer.
Jean-Philippe Viret
(Double Bassist/Composer)
Born in Saint-Quentin on September 16, 1959. Begins music at 18 and studies double bass with Jean-Paul Macé then Jacques Cazauran, harmony and counterpoint with Julien Falk. 1981, creation of the Double Bass Orchestra with which he has played for over 30 years. Plays with many musicians of his generation (Emmanuel Bex, Simon Goubert, Marc Ducret ....) as well as with the "old ones" (René Urtreger, Georges Arvanitas, Michel Graillier ...) and foreign soloists (Lee Konnitz, Bill Carrothers, Dave Liebmann, Kenny Wheeler, Youn Sun, …)
Joined from 1989 to 1997 the trio of Stéphane GRAPPELLI.
In 1998, the first concert of the TRIO VIRET (Edouard Ferlet / piano, Antoine Banville then Fabrice Moreau / drums) with which he recorded 7 albums and gave numerous concerts in France and abroad (New York, Montreal, Japan, China, Korea ...)
Already nominated in 2003, the trio won the instrumental group of the year award at the Victoires de la musique 2011 (French Grammy Awards)
Release of the trio's 7th album, "l'ineffable" in January 2015. Also directs the trio "60% de mater grave" (Eric Seva / bass sax, Michel Godard / Tuba) as well as the string quartet "SUPPLÉMENT D'ÂME "" (Sebastien Surel / vl, David Gaillard / al, Eric-Maria Couturier / vlc).
Also plays in many formations, including:
The Contrabass Orchestra - African jazz roots quartet - Duo with Atsushi Sakai - Mathias Lévy Trio - Emmanuel Borghi Trio - Duo with Rémi Gaudillat - Triumviret - Les primitifs du futur - Release of the trio's 8th album, "Ivresse" in September 2019 at the place of Release of the 7th album of the trio, "l'ineffable" in January 2015
https://www.jeanphilippeviret.com/.
Nicolas BAUER
(Bassist/Composer)
Born in Paris in 1985, Nicolas BAUER began playing bass at the age of 13 before starting his studies a few years later at IMFP, CIM and then CRD in Montreuil. He made his first scenes with multiple projects in the making while at the same time creating his first group as leader "Sezam Project" with which he released a first eponymous album in 2007.
Nicolas Bauer then worked as a bassist and double bassist for a wide variety of artists: Emel Mathlouthi, Nawel Benkraiem, Christophe, Julien Doré, Elbi, Dendana, Nour Harkati, Flouka, Collectif la Casserole, Dgiz, Hend Zouari, Syrine Benmoussa, ….
At the same time, he released a second album "Sezam" with a new group "Nicolas Bauer Quintet" in 2013. He continues to work as a sideman with Magic Malik, Brice Wassy, ​​Paco Sery, Naissam Jalal, Arat kilo, The Khu, Clara Polaire , Nirina Lune, RimKaboré, Mages, ….
He is currently releasing a 3rd album "Borderline" with his latest project "Nicolas Bauer Artefact"
Raphaële Atlan
(Singer/Composer/Author/Pianist)
Raphaële was trained from an early age on classical piano, singing and dancing. After a literary university course, she entered the American School of Modern Music in Paris, then the Didier Lockwood Music Center from which she graduated in 2010. Student of Michele Hendricks and Sheila Jordan for vocal improvisation, she also studied with by Benoît Sourisse, Pierre de Bethmann, Olivier Hutman, Franck Amsallem and many other renowned pianists.
After having participated in several prestigious competitions (Montreux Jazz Voice Competition in 2008, Crest Jazz Vocal in 2011, etc.), in 2012 she was the winner of the Jazz in Vannes and Lagny Jazz Festival.
At the head of a quartet composed of Romain Pilon (l.), Zacharie Abraham (cb.) And Nicolas Charlier (dms), in 2011 she released her first album, Inner Stories, then in 2015 Give It Time both on the label of the duo Charlier-Sourisse, Gemini Records, in partnership with TSF Jazz and Sacem and performs on tour throughout France and internationally (Jazzahead, Kriol Jazz Festival, etc.). She made several first parts among which those of Jean-Jacques Milteau, Thomas Enhco or Airelle Besson.
Raphaële had the pleasure of performing on stage and collaborating with many jazz artists such as Vincent Bidal, Stéphane Guillaume, Anthony Strong, Olivier Hutman, David Linx, Alain Chamfort, Sheila Jordan, Geoffrey Secco, Matthieu Chazarenc, etc.
She has also accompanied on the piano and as a chorister several variety artists including Liane Foly and Christophe Willem.