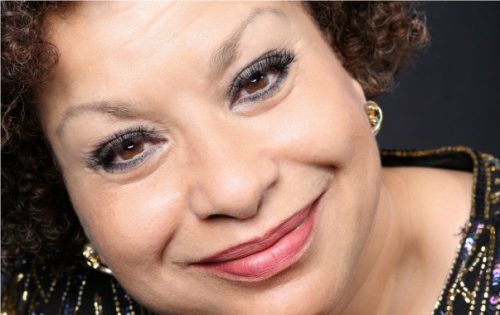 Michele Hendricks in the faculty
We have the honor to announce the arrival of the American singer Michele Hendricks in the teaching team!
Michele HENDRICKS, American singer, songwriter, takes the stage at eight with her father Jon HENDRICKS, himself singer, lyricist and founder of the famous vocal trio Lambert, Hendricks & Ross. At the end of her dance and theater studies in London, she continued her musical studies in San Francisco, before returning to New York, where she was originally from, for two years during which she worked with Buddy Rich and Stan Getz.
Michele then returned to San Francisco to sing in Jon HENDRICKS 'show "Evolution of the Blues", which will be playing for six years. She then sets up her own group, with which she works in the region.
She joined her father when he formed his new group "Jon HENDRICKS & Co". They recorded the Grammy nominated album "Love" for which Michele arranged.
Michele finally leaves the group to start a solo career, and sings in the USA, Europe and Japan.
Her CD in homage to Ella Fitgerald, "A Little Bit Of Ella (Now & Then)", recorded with the Tommy Flanagan trio and released in early 2016, received a good critical and public reception.
le Figaro: "a singer of the great race, those who know how to vocal qualities and musical mastery add an extraordinary stage presence."
Télérama: "Michele HENDRICKS rubs shoulders with the greatest, and succeeds in creating her own forms, as sophisticated as those of Sarah, with a profession that has nothing to envy to Ella, and to the heart of roots that can be traced back to Bessie. "
Jazzman: "the Scat of which she is now the universal champion…"