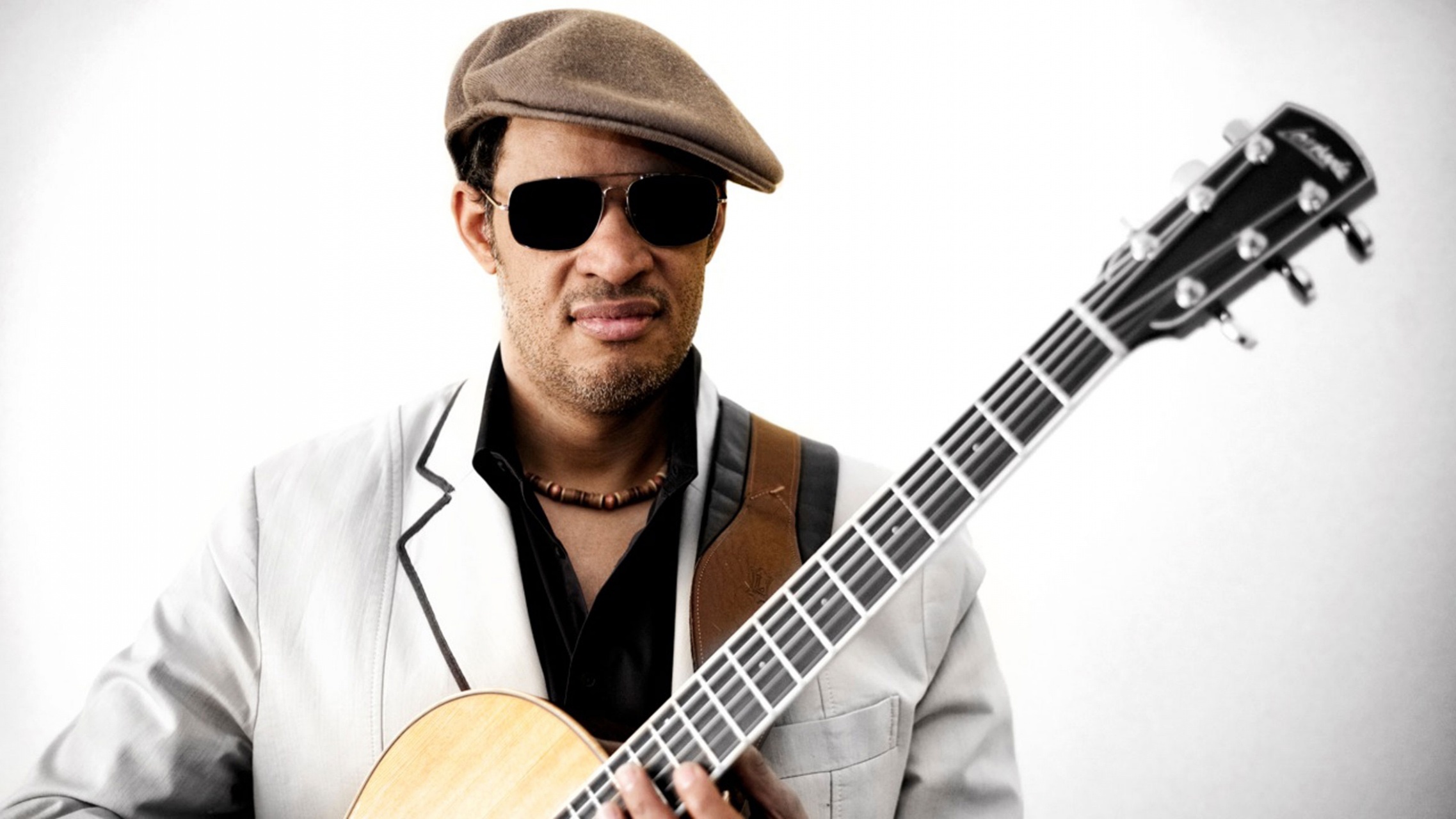 Raul Midon Concert + Masterclass at the American School of Modern Music
The American School of Modern Music have the great pleasure to welcome Raul Midón for a Master-Class and a unique concert in France with his trio on Wednesday, November 15th at La Petite Halle in La Villette!
Tickets: https://www.billetweb.fr/raul-midon
Ever since the 20th century turned into the 21st, singer-songwriter and guitarist Raul Midón has earned renown as one of music's most distinctive and searching voices – "a one-man band… who is spiritually connected," according to The New York Times, and "an eclectic adventurist," in the words of People magazine. The New Mexico native, blind since birth, has released eight albums since 1999, including the acclaimed studio productions Don't Hesitate (Mack Avenue/Artistry, 2014), Synthesis (Decca/Universal, 2009), A World Within a World(Manhattan/EMI, 2007) and State of Mind (Manhattan/EMI, 2005). Midón's questing musicality makes him, as the Huffington Post put it, "a free man beyond category." Attesting to his enduring ambitions is Midón's ninth studio album, Bad Ass and Blind, set for release via Mack Avenue/Artistry Music on March 24, 2017.
Search for "Raul Midón" on YouTube and you'll find a clip of him appearing on The Late Show With David Letterman in 2006. Performing "State of Mind," the title track from his major-label debut, Midón unveils what would become his signature combination of silky tenor voice and percussive guitar style. His guitar playing is a syncopated, flamenco- and jazz-infused wonder in which bass, harmony and melodic lines fly from the fretboard in a way that seems to belie the fact that all the music is being produced by just two hands. If that weren't enough, Midón busts out his improvisational mouth-horn technique, in which he creates a bebop "trumpet" solo entirely with his lips, earning himself a spontaneous burst of mid-song applause from the audience in the process. It's the sort of performance that led the Huffington Post to describe how "he plays with such freedom and joy that his hands smile." Billboard called him, simply and aptly, "a virtuoso." Subsequently, Midón's live 2016 rendition of John Coltrane's jazz classic "Giant Steps" – which sees him fly through all 12 keys – has earned more than 1.2 million views via Facebook.
Midón's upcoming Bad Ass and Blind album ¬– the title a description of its maker that soul icon Bill Withers endorsed – finds the artist expanding his range compositionally, tapping into the linear modal harmony explored by such jazz composers as Miles Davis and Wayne Shorter. Album highlight "Wings of Mind" utilizes this technique with a sophistication that brings to mind jazz-savvy pop acts like Steely Dan. "As a listener, you don't need to know anything about the Phrygian or Dorian modes to get this music – it just sounds different, intriguing, exotic," Midón explains.
In early 2016, the guitarist was invited to cross the U.S. as a featured artist in the Monterey Jazz Festival On Tour company that also included the likes of jazz stars Nicholas Payton, Ravi Coltrane and Gerald Clayton. The tour culminated in a weeklong run at New York City's Birdland. It was an acclaimed live collaboration, with JazzTimes remarking on how Midón became "the undeniable focus" whenever he came onstage and praising his "acrobatic… note-perfect" performances, as well as the "new, swinging 'Wings of Mind'." Inspired by his encounters with top jazz improvisers, Midón tapped some of the Monterey players to form a band for several tracks on Bad Ass and Blind, including "All That I Am," "If Only" and "Wings of Mind," each complete with scintillating solos. "It was the realization of a dream to have my music performed by players of this caliber – they really took the tunes to a higher plane, adding their own art to the songs," says Midón, who produced the album himself. "Guys like these are never just hired guns – listen to the killing trumpet solo Nicholas played on 'Wings of Mind'."
There are songs on Bad Ass and Blind sure to please fans of Midón's earlier albums, beginning with the title track, which in fact was written and recorded after the album was almost completed. The tour de force piece finds Midón celebrating blindness with a ripping guitar solo, a fierce spoken word rhyme, slamming bass by Richard Hammond (Hamilton) and drumming by Lionel Cordew (Spyro Gyra). Celebrating blindness continues with the naturally funky "Gotta Gotta Give" featuring blind French musician Jean-Philippe Rykiel. The album also includes the philosophic, toe tapping "Pedal to the Metal," as well as the ballads "You & I" and "Jack (Robert Lorick)," the latter dedicated to the titular voice actor who moved Midón with his portrayal of Jack in the ZBS audio adventures "Jack Flanders." Another notable track on Bad Ass and Blind is Midón's multi-layered cover of the Steve Miller Band's FM staple "Fly Like an Eagle." As a boy, he bought the original LP featuring the song at a Woolworth's in Santa Fe, New Mexico. "The lyrics have some social consciousness, and there's a groove and simplicity about the song that I think are beautiful. I changed the key, re-harmonized it a bit, changed the tempo – customized the song for the way I feel it now."
Reflecting on the exploratory grasp of past and present represented by Bad Ass and Blind, Midón says: "Like with all my records, this album is for those who are interested in going beyond notions of genre – it's for listeners with open ears, open minds, open hearts."