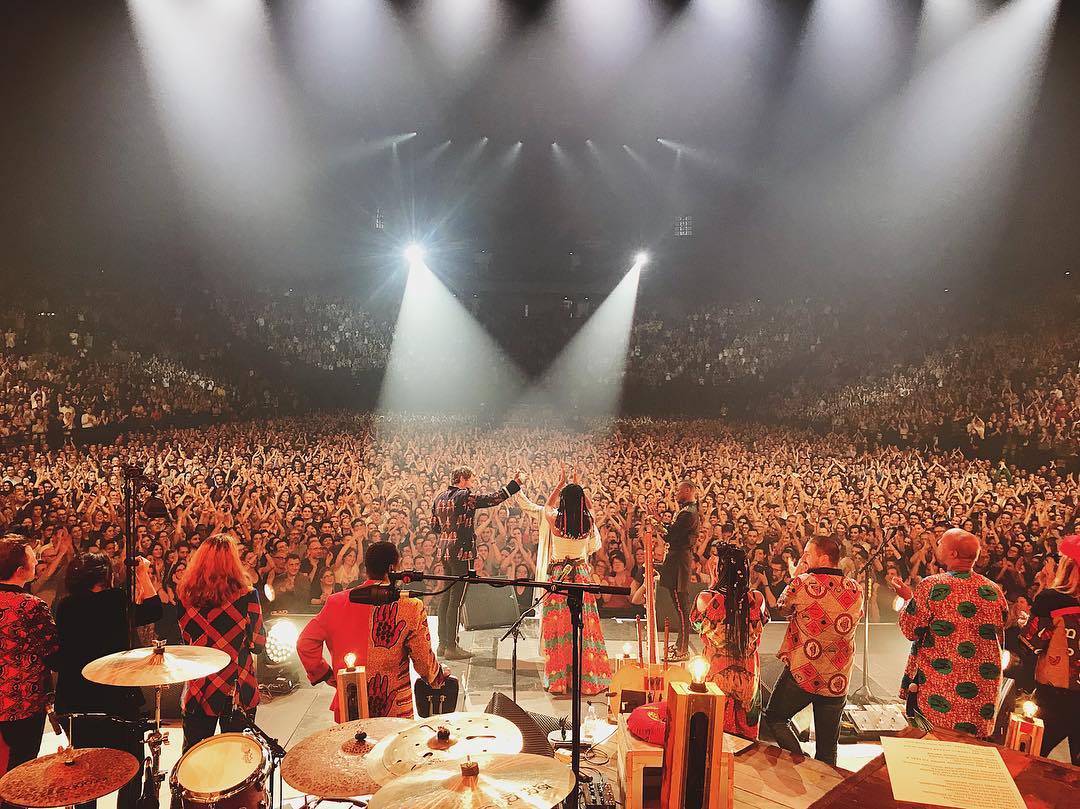 American School teachers on tour with Matthieu Chedid -M-
Les deux professeurs de l'American School of Modern Music, Brad Thomas Ackley et Guillaume Estace sont actuellement en tournée avec Lamomali, le projet Malien de Matthieu Chedid -M- dans la plupart des Zéniths français et le 18 et 19 Décembre à Paris Bercy Accord Hotel Arena.
Brad à la guitare/claviers et Guillaume Estace en premiere partie avec Lulu Gainsbourg.
LAMOMALI est le fruit de la complicité entre Matthieu Chedid, artiste de scène accompli récompensé par huit Victoires de la musique, et le discret mais tout aussi génial et respecté Toumani Diabaté, membre d'une dynastie qui a fait de la kora (une harpe à 21 cordes et une caisse de résonance composée d'une calebasse) l'un des instruments africains les plus emblématiques. Son fils aîné Sidiki, star montante du hip hop (à tout juste 25 ans, il remplit des stades au Mali) a également pris part à l'aventure.
Toumani et Sidiki sont respectivement la 71ème et 72ème génération d'une lignée de maîtres de la kora remontant à l'empire mandingue, à une époque où l'Afrique de l'Ouest était unie. « Ma mission a toujours été de faire découvrir la musique mandingue au reste du monde, et de faire comprendre aux gens que la musique n'a pas de frontières », explique Toumani, qui tout en développant un style ancré dans la tradition, est toujours resté ouvert aux collaborations. Au cours de sa carrière, le musicien s'est ainsi frotté à de nombreux genres musicaux et a collaboré avec des artistes comme Björk et Damon Albarn. « Je ne joue pas la musique des autres, et ils ne jouent pas la mienne », précise-t-il. « A chaque fois que nous mettons nos musiques en commun, nous créons quelque-chose de nouveau. »
Ils sont entourés sur scène de Fatoumata Diawara, diva malienne de la soul (révélée au grand public par le film « Timbuktu », qui a raflé 7 prix aux Césars 2015, dont ceux du meilleur film français et de la meilleure musique) mais aussi par de nombreux invités comme Oxmo Puccino et Ibrahim Maalouf.